Pet of the Week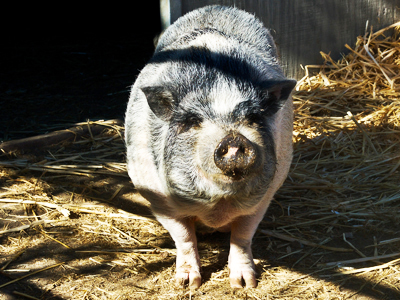 LYDIA (A241674)
Here at the Santa Cruz County Animal Shelter, we shelter/care for/reunite/and adopt-out more than just cats, dogs, and rabbits. Currently in our barn we have: chickens and a pig; all of them looking for homes of their own!
Lydia came to us when her person abandoned her completely after neglecting her care for far too long. She was so obese when she arrived that she could not see for the rolls of fat around her eyes and her stomach literally dragged on the ground. She was so frightened that she would squeal and run when you approached…
Three and a half months later, in the patient and kind care of our Barn Team, she has become joyful and is in much better physical shape too! While she remains shy, that shyness is now tempered by hope. She even wags her tail to greet people she knows and takes small tasty tidbits of treats from their hands!
Lydia even eats dinner out of a food puzzle toy, like many dogs, to keep her mind busy and challenged. Pigs make fun family friends, can be house-trained, and even enjoy learning tricks!
Lydia is young adult, female, potbelly pig mix