Pet of the Week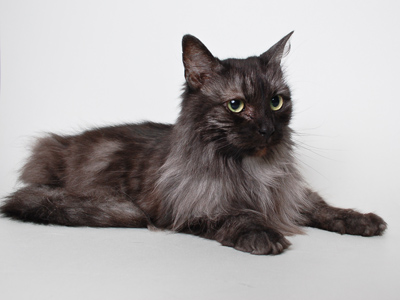 Omen (A238802)
This glamorously beautiful cat is Omen. She is hoping that being Pet of the Week will be a good omen for her and that she'll be home soon, with a family who will treasure her for who she is. Health related issues are a common reason for pets to be surrendered to shelters. Some are not life-threatening but merely inconvenient. Omen was given up because she has feline herpes, which cannot be spread to people or dogs but can be contagious to other cats. She basically has a reoccurring cold.
Omen has lived with a large dog, another cat, and children - coexisting peacefully with them all! She prefers not to be picked up or held but will socialize if you let her come to you.
In recognition of International Senior Citizens' Day on August 21st, the Santa Cruz County Animal Shelter will be celebrating our own seniors by offering half-priced adoptions on all adoptable animals six years and older during the month of August 2017.
These Golden Oldies have an adoption package similar to the rest of the pets adopted from our Shelter including: spay/neuter, age appropriate vaccinations, microchip ID, veterinary exam, carrier for cats and rabbits, and a collar, leash, and license for dogs. Gift bags from local pet supply stores will be given to the senior pets as well.
Omen is six year-old, spayed/female, smoke-grey tabby, with silky medium length fur
To Adopt: Santa Cruz County Animal Shelter, 1001 Rodriguez St., Santa Cruz