ONE STOP Program
Santa Cruz County Animal Shelter Offers "ONE STOP" Program:
Low-Cost Rabies Vaccinations, Microchips & Dog Licenses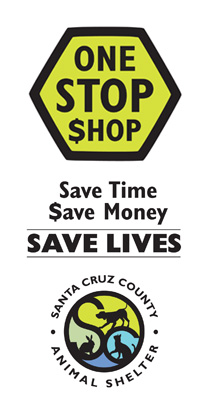 The Santa Cruz County Animal Shelter (SCCAS) offers a "ONE STOP" rabies vaccination, microchip and dog license program at its facility at 1001 Rodgriuez St. in Santa Cruz, Monday through Friday from 1:00 pm to 3:00 pm. No appointment is required for dogs but cats vaccinations do require an appointment. The rabies vaccine for dogs is $10 with dog license renewal purchase. First time dog licensees will receive a FREE rabies vaccine with dog license purchase ($29 for an altered pet and $100 unaltered). All rabies vaccines for cats are $10. Microchips for dogs and cats are $15.
The goal of the program is to increase public awareness of the importance of vaccinating, licensing and providing identification for companion animals. The program provides a low-cost, convenient way for pet owners to comply with California State Statutes and be a responsible pet owner.
A dead bat, brought into the Public Health Laboratory by the Santa Cruz County Animal Shelter, tested positive for rabies on April 9, 2015. There were no known human exposures to this bat. Two dogs were quarantined as they might have been exposed. Dogs exposed to wildlife and not current on a rabies vaccine are subject to a six month quarantine.
State law requires that all dogs over three months of age be vaccinated against rabies and licensed in their municipality. The Alliance for Rabies Control states that "rabies is the most inevitably fatal disease and yet one of the easiest to prevent." The virus attacks the brain of warm blooded animals, including people. The best way to prevent the spread of rabies to humans is by keeping pets properly vaccinated.
Licensing ensures that dogs are vaccinated against rabies, provides owner identification for each pet, and provides funds to SCCAS for the rescue, shelter and care of lost, mistreated, unwanted, abandoned and injured animals. Licenses are also a ticket home for lost pets! When stray animals enter SCCAS with identification, staff can immediately contact the owner to notify them of their lost pet. Dog licenses can also be purchased online.
Microchipping pets is a simple, inexpensive way to permanently identify your pet. Dogs are 2.5 times more likely and cats are 21.4 times more likely to be returned to their home from a shelter if they have a microchip.
For more information call 831-454-7200