Summer Critter Camp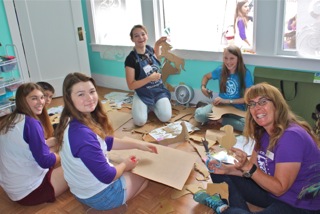 Camp registration will open in February!
Feel free to email Jen with questions: jen.walker@santacruzcounty.us.
The Santa Cruz County Animal Shelter started a summer camp program in June 2015. The summer camp program provided fun learning experiences in different week-long sessions for 1st - 3rd graders and 4th – 6th graders, and one for 6th - 9th graders, held Monday through Friday from 9:00 am to 3:00 pm.
Each year, campers met guest speakers from animal welfare professions and got to know a wide variety of animals. There were behind the scenes shelter tours and animal-themed arts and crafts projects, including art that helps showcase pets waiting to be adopted. Through engaging activities, children learned about being responsible stewards, both for animals and the world around them. SCCAS' summer camp fostered understanding, respect and empathy toward all living beings. We'll be expanding our offerings, learning a lot together, and having great fun in 2018!
All proceeds from this program benefit our county's only Open Admission Shelter, serving animals in need in our community.